From August the 26th to 30th, 2010, the UK national bisexual event – 'BiCon' – is combining with the International Conference on Bisexuality to create the largest bisexual event ever seen in the UK!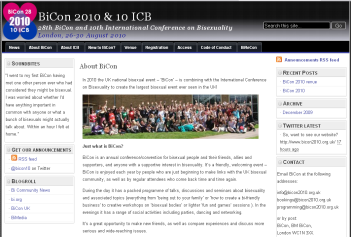 (originally the group photo from BiCon 2009
Just what is BiCon?
BiCon is an annual conference/convention for bisexual people and their friends, allies and supporters, and anyone with a supportive interest in bisexuality. It's a friendly, welcoming event – BiCon is enjoyed each year by people who are just beginning to make links with the UK bisexual community, as well as by regular attendees who come back time and time again.
During the day it has a packed programme of talks, discussions and seminars about bisexuality and associated topics (everything from 'being out to your family' or 'how to create a bi-friendly business' to creative workshops on 'bisexual bodies' or lighter 'fun and games' sessions ). In the evenings it has a range of social activities including parties, dancing and networking.
It's a great opportunity to make new friends, as well as compare experiences and discuss more serious and wide-reaching issues.
The 2010 BiCon will be the UK's 28th – this one of the longest continuously running LGBT events in the country.
BiCon 2010 is going to be the combined UK BiCon 28, BiReCon and ICB10. We're proud to welcome the international bisexual community to our BiCon and we're certain we're all going to learn a lot through sharing the event.
International Conference on Bisexuality 2010
The International Conference On Bisexuality was set up in the 1990s to be an international version of the UK's BiCon. The first was in 1991, after '92 the event had run every two years until the last ICB, 9ICB, in 2006.
In 2010 we are relaunching the International Conference on Bisexuality by combining the 28th UK BiCon with the 10th ICB. It is a chance for bisexual activists from across the globe to get together and combine strategies, compare solutions, and forge partnerships in the fight against prejudice and biphobia. It is hoped that many countries will be represented, through individual delegates and also by attendees sent from both bisexual and LGBT organisations from all over the world.
This year, the first day of this combined event will be the official research conference, 'BiReCon', a chance for academics and activists from around the world to get together to discuss their work and research and plan for the future. These themes will continue to run through the rest of the combined conference.
— The Team